news

Stunning immersive show transforms the Rock of Gibraltar

A new permanent immersive light and spatial audio installation at St. Michael's Cave will boost the Rock's visitor experience in time for Summer 2021

The attraction opens to the public on June 19
Credit: Pixel Artworks
In a bid to boost tourism in Gibraltar, St. Michael's Cave has undergone a transformation, with a technology-led installation by Pixel Artworks and WrightTech Media creating a brand-new immersive experience inside the natural attraction.

Part of Gibraltar's famous network of more than 150 limestone caves, St. Michael's is the most visited, welcoming more than a million visitors each year.

Set to open to the public on June 19, the show, called 'The Awakening', showcases the history of the famous cave, explaining how the geological formation came to be through 360° light projection combined with immersive spatial audio.

Prof John Cortes MBE, is Gibraltar's minister for Education and Culture, the Environment, Sustainability, Climate Change, Heritage and Public Health. It was Cortes who inspired the initiative, with a wish to improve the way the Rock of Gibraltar and St. Michael's Cave is experienced.

"I can remember the first time I walked into St. Michael's Cave at the age of eight and the feeling of awe that it provoked," said Cortes.

"This cavern has made a constant contribution to the appreciation of Gibraltar's Heritage and Culture; it is such a magnificent space that I have always felt that it needed something more. With the development and growth of mapping technology it became clear that the time was right to push the boundaries. This new experience does justice to the beauty and the heritage and will inspire all who feel it."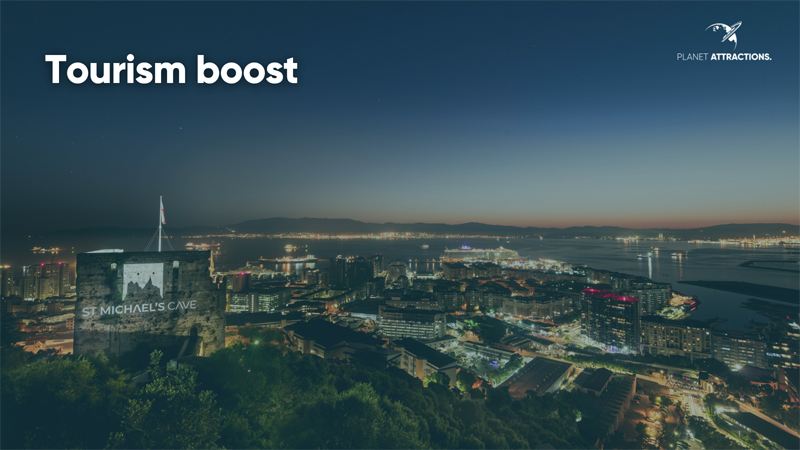 Tourism in Gibraltar constitutes one of the British Overseas Territory's most important economic pillars. Although the population numbers around 30,000 people, the territory welcomes nearly 12 million visitors a year, giving it one of the highest tourist-to-resident ratios in the world.

With much of the world closed however through 2020, the territory's economy has taken a hit. In 2021, Gibraltar is one of a slim number of nations on the UK's "green list", a select band of destinations from which returning travellers need not quarantine upon arrival back into the UK.

After Gibraltar's rocky year for tourism, the new installation is designed to enhance the current Upper Rock Nature Reserve visitor experience, and is intended to accelerate Gibraltar tourism numbers back to pre-Covid levels and beyond.

"Pixel Artworks has created something so beautiful that builds on the cave's innate majesty and allows it to compete with any international tourist attraction of its kind," said Christian Wright, director at WrightTech Media.

"I'm incredibly proud of our collaboration that will showcase Gibraltar's ancient past to a global audience, and also excited by the opportunities it opens in areas such as education to bring Gibraltar's rich history to the fore."




© Kazoo 5 Limited 2021