In depth

Fifteen attractions that have been transformed into mass vaccination sites

As the world fights back against Covid, so does the visitor attractions community, which is offering its sites up as mass vaccination centres

Attractions all over the world are volunteering to host vaccination centres
Credit: Hakan Nural on Unsplash
All over the world, theme parks, museums, theatres, venues and more are currently off-limits thanks to COVID-19.

In response to the pandemic and the ongoing vaccination rollout, attractions and culture venues are offering their services as mass vaccination centres in the aid to combat Coronavirus.

So if you live locally and fancy a glimpse at your favourite attraction, keep an eye out for these venues, which represent just a handful of sites where you can get a taste of what you've been missing along with your own vaccination dose.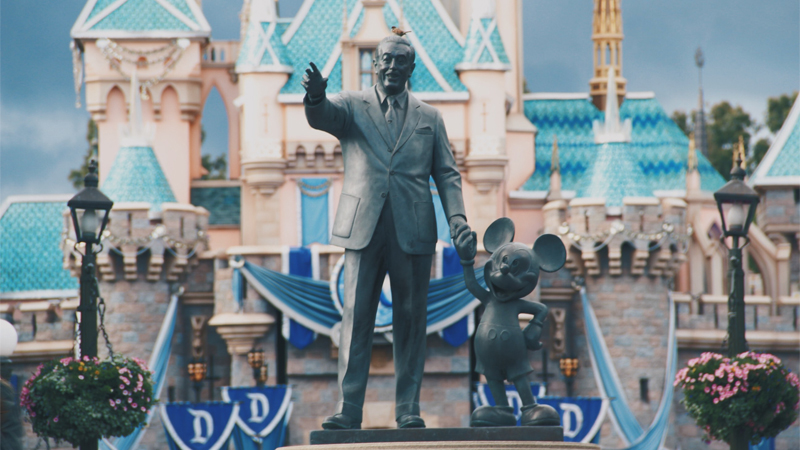 Credit: Travis Gergen on Unsplash

Disneyland, California, US

Disneyland made the headlines a couple of weeks back when it was named as Orange County's first mass vaccination site.

The theme park, which has been closed since the start of the pandemic - a period of nearly 11 months - is hosting a large Point-Of-Dispensing (POD) site for vaccine distribution.

"Disneyland Resort is proud to help support Orange County and the City of Anaheim with the use of our property, and we are grateful for all of their efforts to combat COVID-19," said Dr. Pamela Hymel, chief medical officer, Disney Parks, Experiences and Products.

"After a year in which so many in our community have faced unprecedented hardship and uncertainty, there is now reason for optimism with the administration of a vaccine."

Six Flags America, Maryland, US

Disneyland isn't the only theme park to have offered its services, with Six Flags America also transforming itself into a mass vaccination site.

The park was the among the first two mass vaccination sites to open in Maryland, though the state is currently struggling with available vaccines, with 2 million people eligible and only 10,000 doses available a day.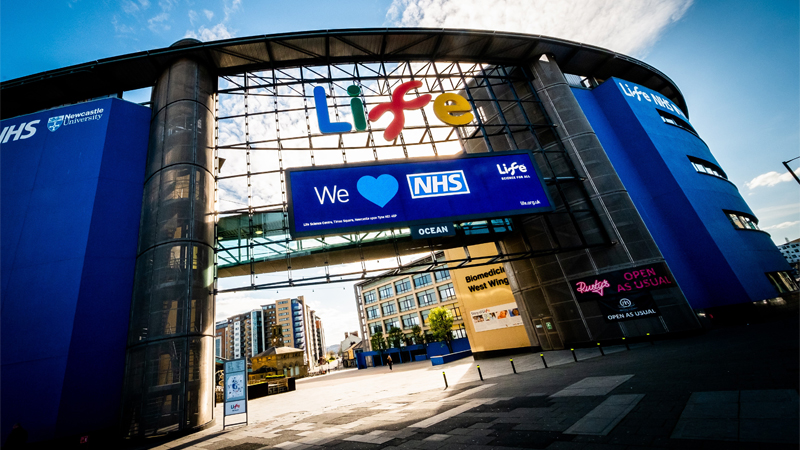 Credit: International Centre for Life

International Centre for Life, Newcastle, UK

The first science centre in the world to become a mass vaccination site, the International Centre for Life in Newcastle officially opened to medical professionals on 11 January.

Life has a long history of partnering with the NHS and is already home to two permanent NHS clinics offering treatment for fertility issues and genetic diseases.

More than 1,000 people a day are being vaccinated at the site, which has transformed its conferencing facilities for the vaccination programme.

"Life's mission is to inspire everyone in North East England to explore and enjoy science and to discover its relevance to their own lives," said Linda Conlon, chief executive of Life. "What's more pertinent and relevant than a life-saving vaccine?"

Citi Field, New York, US

The home of the New York Mets baseball team, Citi Field began operating as an immunisation centre on January 25, with the site capable of administering between 5,000 and 7,000 vaccines daily.

"We welcome all New Yorkers," said New York City's mayor, Bill de Blasio. "We even welcome Yankees fans."

Yankee Stadium, New York, US

No mention of Mets fans being welcome to this one but we assume they're returning the favour.

"This is exactly what it will take to defeat COVID and drive a recovery for all of us in New York City," said de Blasio. "I want to thank the Yankees for stepping up to the plate and the teamwork on display here to continue expanding our vaccination infrastructure in neighborhoods across the city."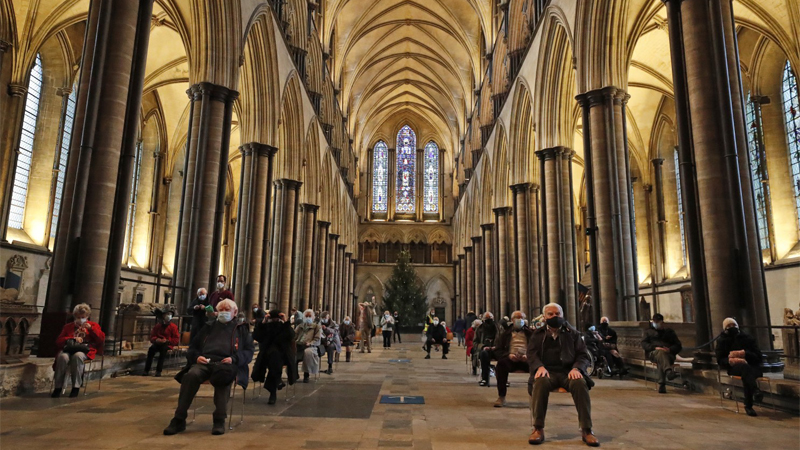 Credit: AP

Salisbury Cathedral, Salisbury, UK

Featuring the earliest working clock in Europe, the original Magna Carta and stunning gothic architecture, the 800-year-old Salisbury Cathedral is among the most spectacular and historic vaccination centres anywhere on the planet.

During the first round of vaccinations, the cathedral organised a programme of music, which was played on its 19th-century Father Willis organ with performances of Bach, Handel and Pachelbel.

"We're proud to be playing our part in the life-saving vaccination programme, which offers real hope in these difficult times," said the Very Rev Nicholas Papadopulos, the dean of Salisbury Cathedral. "This place has stood here for 800 years to give glory to God, and to serve the city and the region. What better way could there be of doing that than hosting Salisbury's stage in the vaccination programme. It's absolutely wonderful."

Fair Park, Dallas, Texas, US

The first mega centre in Dallas, the Fairgrounds site is capable of vaccinating 200 people an hour, with more than 140,000 currently registered for vaccination.

The site is usually the location of the Texas State Fair, which draws big crowds each year for its shows, thrill rides and signature corn dogs.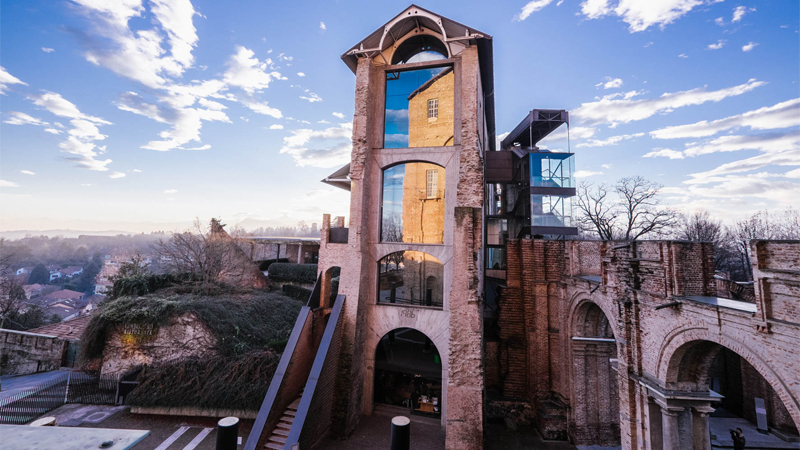 Credit: Castello di Rivoli

Castello di Rivoli, Turin, Italy

Castello di Rivoli has opened its galleries as a Covid-19 vaccination centre, becoming the first museum in Italy to do so.

The institution has partnered with Rivoli city health authorities in support of the country's vaccination efforts, with officials transforming the 10,000sq ft (929sq m) third-floor gallery for the process.

For people undergoing vaccination, they will be able to take in works of art including a set of murals by Swiss contemporary artist Claudia Comte.

"Art has always helped, healed, and cured - indeed, some of the first museums in the world were hospitals," said Castello di Rivoli director, Carolyn Christov-Bakargiev. "Now we're repaying the favor, so to speak, and opening Castello di Rivoli's galleries for the vaccine effort.

Even while our exhibitions are closed, our buildings can continue to serve this purpose and fulfill our mission: Arte cura - art helps."

Black Country Living Museum, Dudley, UK

An open-air site, the Black Country Living Museum has been hailed as a "game-changer" for the local community when it comes to COVID vaccination.

Also doubling as the set for TV series Peaky Blinders, the attraction normally gives visitors a taste of life in the old Black Country, with actors portraying locals from the Victorian era.

"Having the Black Country Living Museum on board as a vaccination centre will greatly increase the amount of jabs we can deliver, and the speed at which we can administer them," said Nicholas Barlow, Dudley Council member for health. "It will make people safer from this deadly virus more quickly."

The Etihad Campus, Manchester, UK

Home to Manchester City Football Club, the Etihad Campus is now doubling as a vaccination centre.

This isn't the first time Manchester City has aided in the fight against Coronavirus, with the Premier League club's facilities used as a drive through testing centre early on in the pandemic.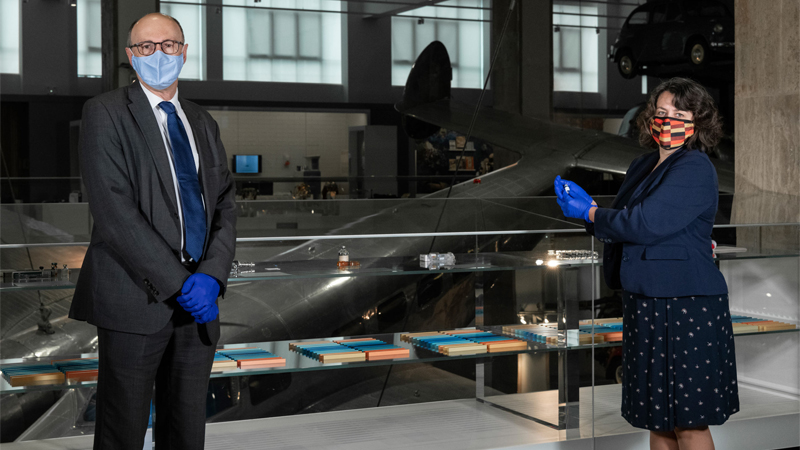 Credit: Science Museum Group

Science Museum, London, UK

Not only has the Science Museum been collecting artefacts such as the vial from the first COVID-19 vaccination but it's also become a part of history, offering its services as a mass vaccination centre.

Set to start vaccinating this month, the move will allow the borough of Kensington to "roll out the vaccination locally on a much greater scale".

"We are working with the NHS day by day on this - but it remains our number one priority," said Kensington and Chelsea council's director of public health, Russell Styles.

Epsom Downs, Epsom, UK

One of the world's most famous racecourses, the Epsom Downs is currently operating as a vaccination centre 12 hours a day.

Among those vaccinated at the site is 88-year-old Cliff Taylor, a former jockey who used to race horses at the racecourse.

"The sooner we all get our vaccination, the sooner we can get rid of this horrible disease," he told CBS.

STEAM Museum, Swindon, UK

Housed inside a restored Grade II railway building in the heart of the former Swindon railway works, the Museum of the Great Western Railway, also known as STEAM, tells the social story of the railway community in Swindon, with recorded personal experiences and film archives.

Alongside the steam engines is now a mass vaccination centre, which is capable of seeing thousands of people each week.

Time Capsule Waterpark, Coatbridge, UK

The Time Capsule is a waterpark in Scotland also featuring a swimming pool, ice rink and a fully equipped gym. The attraction has opened and closed a number of times through the year thanks to local COVID restrictions.

The waterpark is among 31 new vaccination venues being established across the Lanarkshire area, while the immunisations will also be delivered at 42 GP surgeries locally.



Credit: Stefano Boeri

Vaccination pavilions, Italy

Architect Stefano Boeri has created a prefabricated timber and fabric pavilion, which will be replicated across Italy to house Covid-19 vaccination stations.

More than 1,500 of the structures are currently being set up at the direction of Domenico Arcuri, Italy's special commissioner for Coronavirus.

Between them, it's expected the pop-up pavilions - crafted from recyclable textiles and featuring a bright pink primrose - will vaccinate more than 3.4 million people.

"The Politecnico of Milano will start to work on a prototype in order to optimise the prefabrication so that the pavilions can be easily and quickly placed all over Italy," Boeri told Dezeen.

"The main reason is to increase capacity, to speed up the process of vaccination and to reach the entire Italian population. Providing a temporary pavilion in public areas can also help to spread the message: let's get vaccinated."
Visitor attractions