news

BrewDog to open 'first of its kind' carbon-negative bar and visitor experience in Las Vegas

The bar will feature a retro games space and an urban forest to offset its carbon emissions

BrewDog Las Vegas will offer a special edition of the brand's Elvis Juice beer
Credit: BrewDog
BrewDog will open Las Vegas' first and only carbon-negative bar, the company's co-founder has revealed.

Set to open later this year, the bar will feature an urban forest - to capture the building's carbon emissions - and a rooftop bar, as well as a 10-barrel brewing system, event space and a retro game zone.

It will also offer a special edition of its Elvis Juice beer; a citrus-infused American IPA with a caramel malt base and notes of pine, orange and grapefruit.

"This will be the first-ever carbon-negative bar in Vegas," said BrewDog co-founder James Watt.

"You can expect an amazing rooftop urban forest, an onsite brewery, a secret event space, a retro game zone and a special edition of Elvis Juice."

The brewer, based in Ellon, Scotland, has opened more than 100 bars globally in the past five years and has been working on expansion plans, with new DogHouse hotels set to open in Edinburgh, Scotland and Manchester, England, later this year.

DogHouse Hotel

Due to open in Q3 2021, the DogHouse hotel on Market Street in Edinburgh, Scotland, will have beer on tap in each of the rooms and even in-shower fridges.

Guests will be presented with a free beer on arrival and will have access to record players, guitars, games consoles, and even Brompton bikes to explore the city. The dog-friendly hotel will even supply beds for any four-legged guests.

Maintaining the brand's commitment to remain carbon-negative, the sustainable rooms will all be equipped and cleaned with eco-friendly products, while guests who reuse their towels will also receive free beer and a refillable water bottle.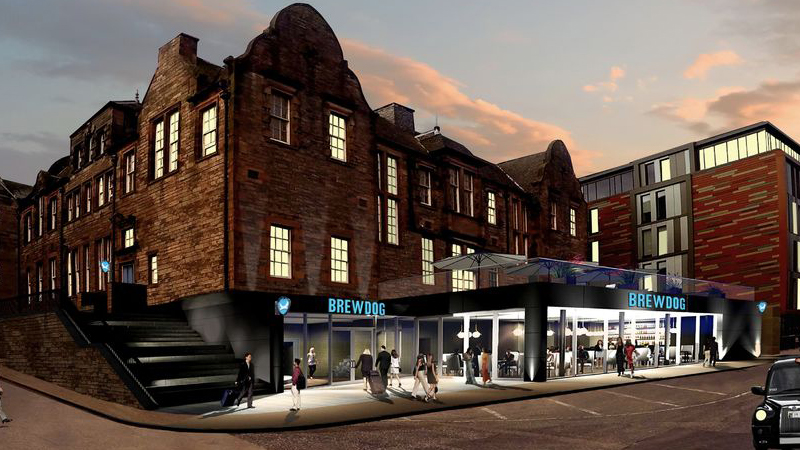 The DogHouse hotel will have in-shower fridges and beer on tap in each of the rooms   CREDIT: BREWDOG




© Kazoo 5 Limited 2021