news

Universal may have accidentally included a fan made design in Super Nintendo World

Part of Universal's new immersive world might not actually be a part of the Nintendo universe

The cactus design appears to be the same as that included in the fan-made Super Mario mod
Credit: Twitter.com/@meatball_132
An eagle-eyed Twitter user has pointed out an interesting feature in Universal's upcoming Super Nintendo World - designs that appear to be based on fan-created content.

User Meatball132 noticed that the soon-to-open attraction, currently delayed due to the global pandemic, has cactus designs that resemble those from a fan-made mod of New Super Mario Bros. Wii called "Newer Super Mario Bros. Wii".

"Wow. I actually think Super Nintendo World's designers used art from Newer Super Mario Bros. Wii (a NSMBW mod) as a reference for their cacti," Tweeted Meatball132.

"They have a somewhat distinct shape, were made specifically for Newer, and show up when you Google 'New Super Mario Bros. Wii cactus'."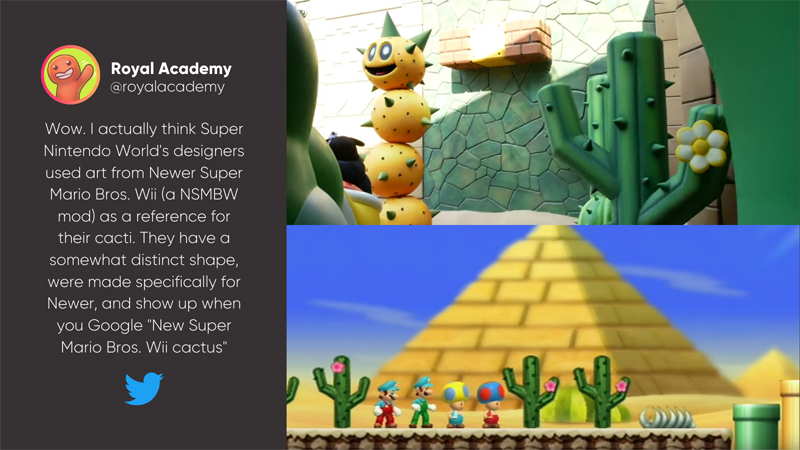 He continued: "If you look up 'New Super Mario Bros. Wii Cactus; on Google Images, you'll get several results for Newer's desert levels, and I assume that's where this mistake must have come from."

While the designs look similar to Nintendo's original creation, the park version is practically identical to the fan-made cactus, with the plants boasting the same shape and flower placement.

There are now discussions online about whether or not the cactus will be removed from the park, though Universal is yet to comment or take action.

Still expected to open in 2021, a surge of COVID-19 cases in Japan has currently put Super Nintendo World on an indefinite hiatus following the declaration of a State of Emergency in the Osaka Prefecture.

The park was originally scheduled to open on February 4.
© Kazoo 5 Limited 2021