news

The Week: The man behind Sonic, Nicholas Cage: The Ride and the Bucs are going to Disney World

Featuring Sonic, Nicholas Cage, Gandhi and the Tampa Bay Buccaneers, welcome to the latest edition of The Week with Planet Attractions

Welcome to the fourth edition of The Week from Planet Attractions and as we get into it this week, there's even more hope on the horizon, as Disneyland and California's largest theme parks might be seeing the light at the end of what has been a very long tunnel.

To reopen the 'Happiest Place on Earth' would certainly be symbolic for the wider industry and maybe this is the turning point for attractions in the fight against COVID-19.

Welcome to Planet Attractions. Welcome to The Week.


---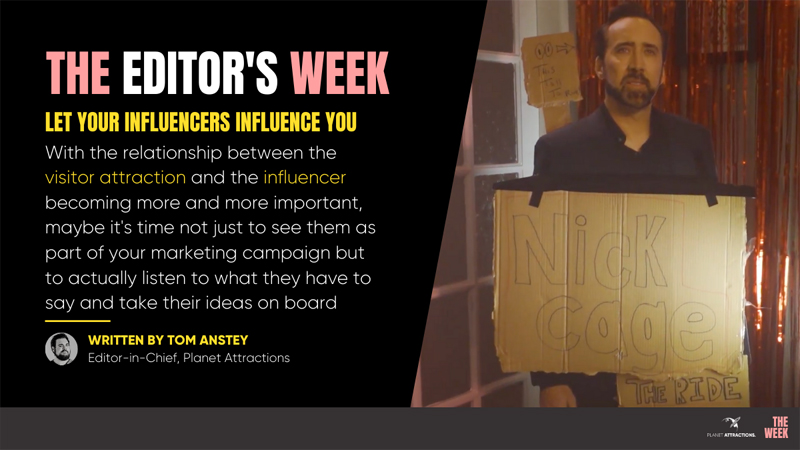 I saw two incredible pieces of social media this week. One was a full-scale musical production of Theme Park Fan - The Musical (see our Influencer of The Week for more on that) and the other came from a content creator who fashioned a makeshift theme park inside his own house.

Sean Dyer, better known as Parkspill, is behind the creation, which is one of the best videos I've seen all year.

Along with his co-host, Jo, Dyer had been missing theme parks so much during the pandemic that he decided to create what he dubbed 'Parkspill Park' - a rollercoaster ride into the inner psyche of a theme park enthusiast.

Included in this attraction were an array of home-made rides, including a waltzer, a ghost train and even a Nicholas Cage-themed rollercoaster. Along with a lot of cardboard, everything was made with items found around the home and the end result was surprisingly effective, with Dyer's home transformed into a DIY theme park experience.



Change the narrative

This kind of content is probably something a theme park - or any other visitor attraction for that matter - would ever dream up but it's something they should definitely be doing.

Now creating a theme park in the home isn't something you can really apply to your attraction but what it does offer is something impossible to replicate - soul.

You can create amazing videos of your new ride and shoot high budget adverts to hype the new season but you'll always be missing that soul unless you're a die hard fan of what you're creating.

It's time to change the dynamic between influencer and attraction. Don't think of them as just a marketing opportunity. They are in the position they are in because they create engaging content and have brilliant, creative ideas.

Start a conversation with your most influential fans. I can guarantee your most loyal ones have a thousand ideas about ways you could improve your attractions - from what rides you're missing to how much the food costs, they are a sounding board like no other.

When you come up with your great new attraction. Ask them what they think. Let them be part of the creative process. See what ideas they have.

Listening to influencers (within reason of course) will transform your visitor experience and drive up visitor satisfaction. Maybe it's time to build a real life version of Nicholas Cage: The Ride. Maybe not. One thing that's certain, is it's time to enhance the dialogue with your most influential customers. Let your influencers influence you.


---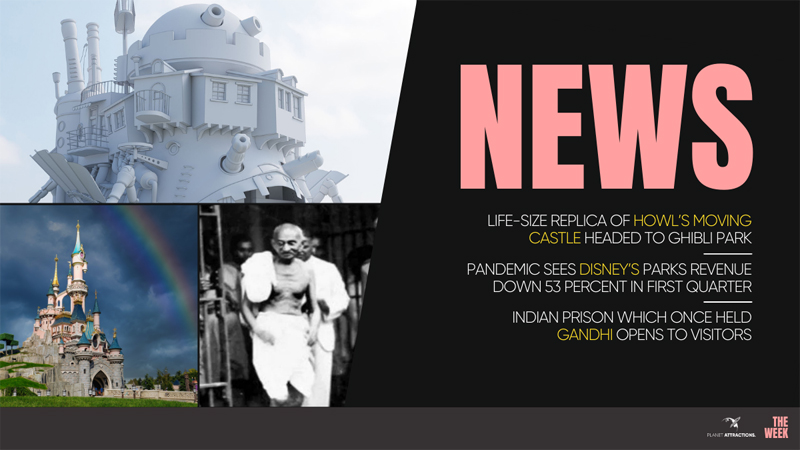 First up in the news this week, a life-size replica of Howl's Moving Castle will be a key feature in the upcoming Studio Ghibli-themed park coming to Japan's Aichi Prefecture in 2022.

The castle, featured in the classic Studio Ghibli anime Howl's Moving Castle, will have four or five storeys and, unlike its animated counterpart…keep reading

Meanwhile at Disney, with some of its parks closed and others operating at limited capacity due to COVID-19, the company has unsurprisingly reported a 53% revenue decline in its theme parks division for the company's first quarter.

The results, which also include consumer products, see revenue for the quarter ended January 2, down from US$7.58bn (€6.25bn, £5.49bn) to…keep reading

In India, one of the country's highest security prisons has opened to the public, with educational tours taking visitors inside the place where Mahatma Gandhi was held prisoner for several years.

Gandhi is one of a number of famous names to have been incarcerated at the prison, joining names such as India's first Prime Minister, Jawaharlal Nehru, and the leader of the…keep reading


---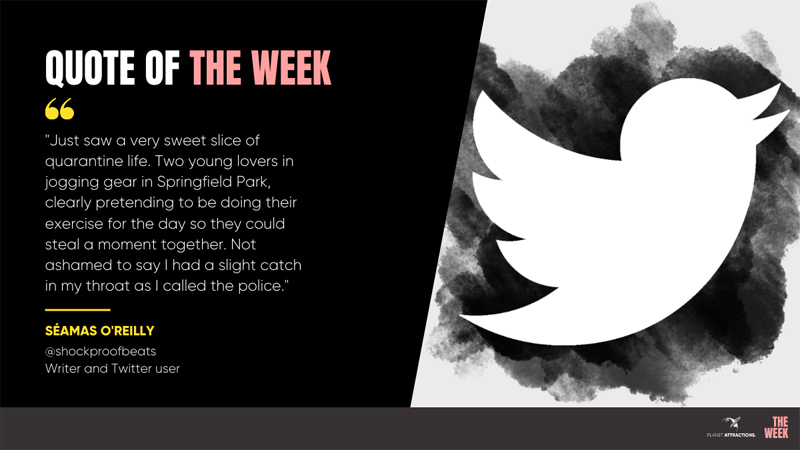 Our quote of the week comes from writer Séamas O'Reilly, whose Tweet from London's first COVID lockdown is one of 13 to have been acquired by the Museum of London for its collection.

Each post in the collection expresses a different perspective on pandemic life. Whether that be humour to keep spirits up or ways of seeing loved ones, they all highlight…keep reading


---


More reading

• French mayor flouts Covid restrictions to controversially reopen local museums

• WATCH: Get a 360 degree view of Hagrid's Magical Creatures Motorbike Adventure

• A full year after closing, Disney's California Adventure Park is set to reopen for a 'limited-time experience' next month


---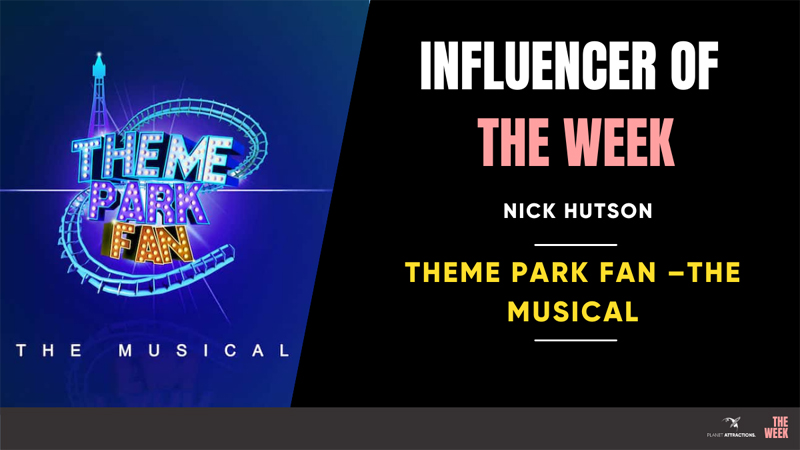 Our influencer of The Week this week is really an entire community, which came together to raise money for charity and put on a phenomenal experience known as Theme Park Fan - The Musical.

Masterminded by Nick Huston, this labour of love features more than 25 influencers and members of the UK theme park community. American actor, singer, comedian, writer and producer, Neil Patrick Harris - a self-professed theme park enthusiast - also makes a cameo appearance in the production.

The musical has been released on YouTube and tells the story of Jamie - a fan looking for acceptance within the theme park community.

The 70-minute production features 13 original songs, all written and composed by Hutson, who by profession is a composer, lyricist, arranger and broadcaster for theme parks and theatres.

The show was created in support of CALM (Campaign Against Living Miserably) - a mental health charity which is leading a movement against suicide, offering bereavement support and running campaigns tackling stereotypes of masculinity, suicide, and mental health. The Just Giving campaign has so far raised more than £1,800.



Click here to donate.


---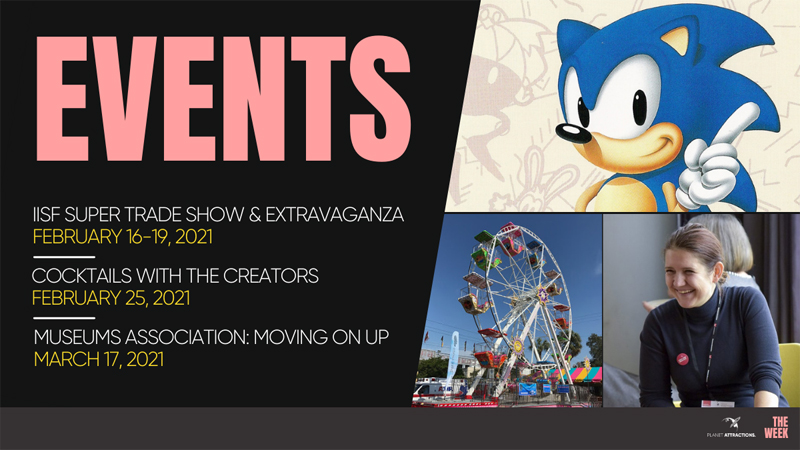 IISF Super Trade Show and Extravaganza

The largest trade show in the world for carnivals, the annual IISF Super Trade Show and Extravaganza features rides, food supplies and equipment, concession trailers, electrical supplies, insurance companies, novelty items, plush toys, jewelry and much more.

The show will go-ahead in person this year inline with COVID-19 guidelines. The event takes place in Gibsonton, Florida, US.

Click here to register

Cocktails with Creators

The Strong National Museum is set to host an online Zoom series featuring the most influential and creative innovators in the videogame and toy industries, starting with former Sega, Mattel and Leapfrog CEO, Tom Kalinske.

Among the topics to be included in the inaugural Zoom session, Kalinske will discuss how he revived the Barbie and Hot Wheels brands, disrupted the video game industry by marketing Sonic and Sega Genesis to an older age group and reveal what led him to the world of toys and videogames.

Read about it here

Moving on Up: Making an Impact with your Career

This conference event is going online in 2021, with Moving on Up designed for mid-career museum professionals who are ready to take the next step.

Its hosts, the Museums Association, says the event will give attendees the confidence, contacts and ideas to think innovatively and creatively about how they can progress their career and be a change-maker in the sector.

Find out more about the event here


---


Our photo of The Week come moments after the Tampa Bay Buccaneers' 31-9 victory over the Kansas City Chiefs at Superbowl LV, where Tom Brady and Rob Gronkowski said the famous line - "We're going to Disney World".

The phrase was first uttered in 1987 by New York Giants quarterback Phil Simms. Former Disney CEO, Michael Eisner, actually came up with the slogan, pitching the advertising idea to the NFL just weeks before its first use.

Read about it here

Show your support

We're in extraordinary times right now and this website is a direct result of that. Featuring a team of world-class attractions journalists and behind-the-scenes team of equal calibre, we need your support to make Planet Attractions happen.

We believe that everyone deserves equal access to accurate and compelling content, so we won't hide anything behind a paywall.

We're here to support both the industry and the consumer and to achieve our goals, we would love it if you could support us right back.

So how can you do this? It's easy. Just contact our sales team sales@planetattractions.com and let us know about your company. We will create a package tailored to your specific needs and deliver that in the way we believe will benefit you the most.

You can also support us at no cost to you. All you need to do is follow our social channels.

You can do this by:

Liking us on Facebook

Following us on Twitter

Liking our Instagram page

Subscribing to our YouTube channel

Following our LinkedIn page

Most importantly, once you've subscribed, make sure to go on these social channels and engage! We're building a community and we love being able to bring you all together.

Thank you,

The team at Planet Attractions.
© Planet Attractions 2020