news

The Week: Joe Rohde shoots for the stars, restrictions lifted and Peppa Pig's new Florida home

With a Disney legend joining Virgin Galactic, Edvard Munch making like Banksy, Boris Johnson setting a roadmap and Peppa Pig making her way to Florida, welcome to the latest edition of The Week with Planet Attractions

We're on the sixth edition of The Week and alongside big changes coming to the visitor attractions industry, we've got a few coming to Planet Attractions too (more on that over the next couple of months).

Beating COVID and looking to the future beyond the pandemic are our key themes this week, with operators starting to make plans that would have seemed impossible even a few short weeks ago and governments working their way out of pandemic-related restrictions.

Welcome to your seven day breakdown of everything related to the visitor attractions industry. Welcome to The Week from Planet Attractions.


---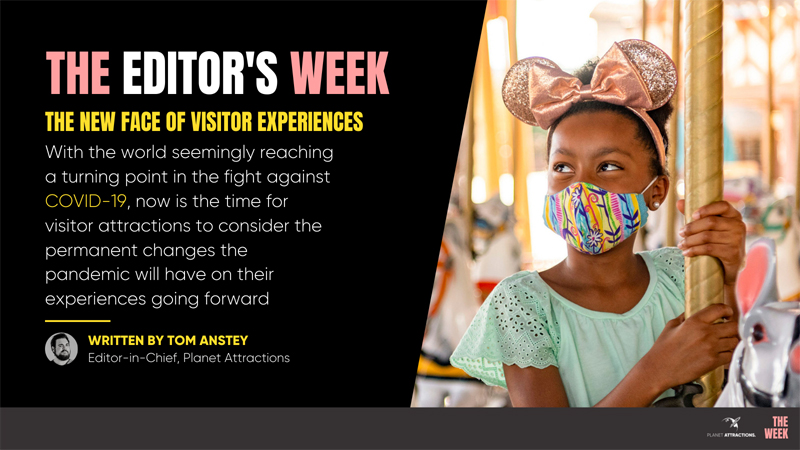 As you'll read a little lower down in The Week, after a year of chaos, there was a sigh of relief that the British government had finally set out a timetable for easing lockdown restrictions, which will hopefully drive the country to a point of normality for the first time in a year. In Britain, theme parks, museums, zoos, FECs and other attractions finally have a date that they can start focusing on, as vaccinations in the UK start to turn the tide against COVID-19.

And it's not just Britain. As vaccination drives take place all over the world, governments are setting out their plans to bring the planet back to a state of normality. As these plans start to have an effect, things like global travel will return and social distancing measures will be eased, if not permanently lifted, so it's time for attractions to start considering what the 'new normal' will look like for them.

Experiencing COVID as a visitor

I've visited a single theme park during the COVID era - Parc Asterix in France - and it was one of the most pleasurable experiences I've ever had, primarily because of the restrictions in place for COVID.

In place of hours long waits for rides were virtual queue systems where you turned up to ride during a scheduled period and boarded in minutes. This left so much time to explore the park, explore retail, look at theming, enjoy the restaurants and generally take in the attraction. It was so simple it makes you question why this kind of a system hasn't been in place for a long time before the pandemic. It's great for guests and it gives them more time to spend money elsewhere in your attraction.

Wearing masks most of the day was a bit of a struggle, but with limited capacity in place, you didn't feel like you were being swamped by a throng of people.

Another attraction I visited during the pandemic was Woburn Safari Park in the UK. Again, with space in mind, the restrictions in place somewhat ironically made me feel less restricted as a visitor. In addition, cleanliness was key and while that made certain things take slightly longer than usual (for example the swan boats had to be individually disinfected for each set of riders), you felt safer, you felt like you could explore without the pressure of 20 families around you and as a result the overall experience was improved.

Of course for any attraction, the bottom line is the most important thing, but even if a visitor attraction reopened at 85% capacity rather than maximum, the difference to the visitor experience would be tenfold. Add in the virtual queue system and the safety-conscious attitude of most visitors during the pandemic and it makes for a five star attraction.

Change is good

Coming out of this pandemic, the public will naturally keep certain habits in place. I think we will all find we have much more space where we can get it and I think the entire world is very aware of the importance of cleanliness. The job now for attractions is to see how the visitor has changed, what they expect from a new visitor experience post pandemic and, most importantly, what changes made during the pandemic they should keep to enhance the visitor experience.

COVID-19 has obviously been a terrible experience for everyone but with every cloud comes a silver lining and that lining for the visitor attractions industry is the innovation it's been forced to make. When this is all over, hopefully by the end of this year, don't forget the lessons you learned. Apply them to the new world and make tomorrow an even better day for your customers. The anticipation and hunger to come back is there. Make sure you make it the best possible experience you can for those eagre visitors.


---
News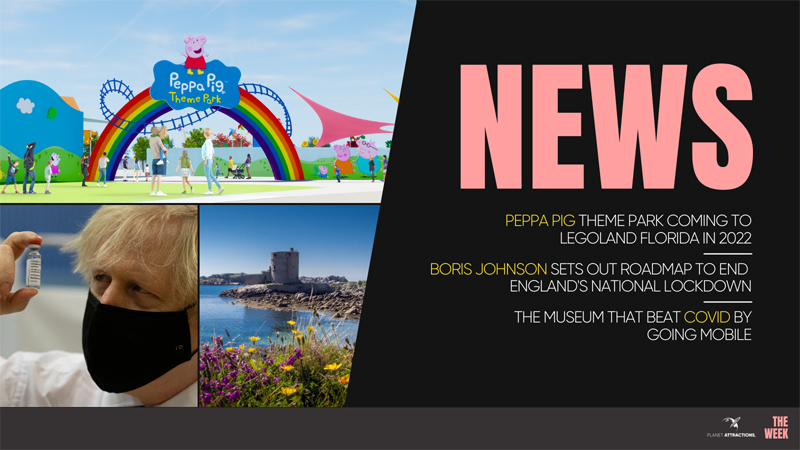 Rejoice preschoolers and parents because a Peppa Pig theme park is making its way to Florida.

Designed specifically for young children, Peppa Pig Theme Park will feature multiple rides, interactive attractions, themed playscapes and water play areas. The park will also feature...keep reading

As we've already mentioned, British Prime Minister Boris Johnson has raised public hopes of a permanent end to the lockdown restrictions that have been in place on and off at various levels for most of the last year.

Theme parks, museums and zoos will reopen alongside shops, hairdressers, gyms and outdoor hospitality in phase two of the reopening plan, which will take place a minimum of five weeks after the first part of the plan - the...keep reading

Meanwhile, the Isle of Scilly Museum has found a unique way of getting around COVID-related restrictions - a series of satellite pop-up mini museums to showcase its collection of more than 8,500 artefacts.

Its collection, which features artefacts recovered from historic shipwrecks, iron age weapons, animals and more, will go on display through the spring and the summer across the Isle of Scilly's five inhabited islands, with artefacts placed in locations they are most closely associated with....keep reading


---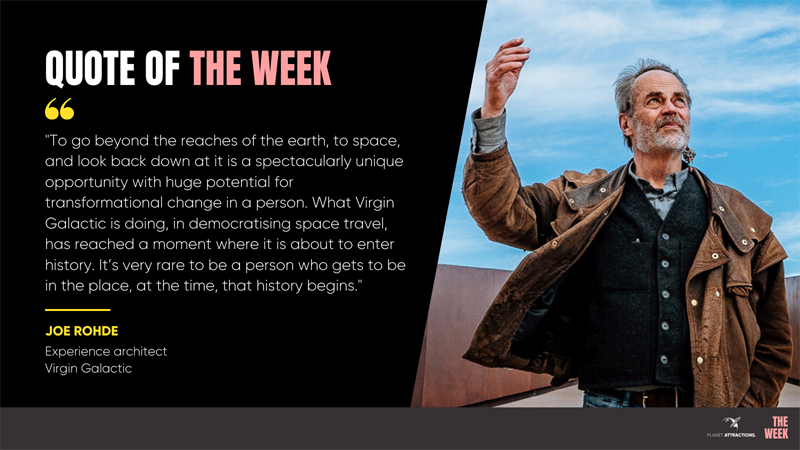 This week's Quote of The Week comes from an industry legend in Joe Rohde. The former Disney Imagineer, responsible for attractions such as Pandora: The World of Avatar, handed in his mouse ears earlier this year and has seemingly swapped them for a space suit, joining Virgin Galactic as its first ever experience architect.

Read more here


---

More reading

• New technology creates 3D-scanned replicas of priceless artefacts at the push of a button

• Effective operations within a storied environment

• Disney's Carmen Smith on reimagining experiences with inclusivity in mind


---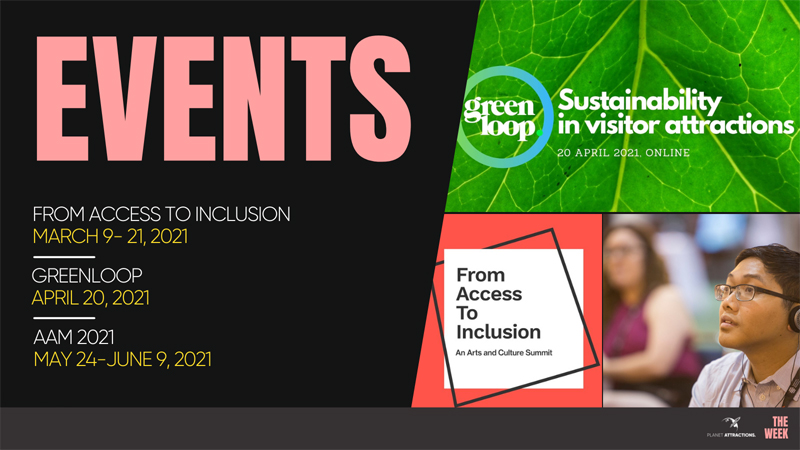 From Access to Inclusion: An Arts and Culture Summit

Taking place online in, this international summit is set to be hosted by Arts & Disability Ireland and The John F. Kennedy Center for the Performing Arts Office of VSA and Accessibility. The event presents a unique opportunity to exchange ideas and discover new and innovative ways to create accessible and inclusive experiences.

Find out more here

Greenloop

Industry news source, networking and conference provider Blooloop is hosting a sustainability conference, which will see speakers discuss, debate and introduce sustainable initiatives for the visitor attractions sector.

Read more here

AAM Annual Meeting and MuseumExpo 2021

The AAM Annual Meeting first started in 1906 in New York with under 200 museum professionals and has grown to over 5,000 attendees, becoming the largest museum conference in the US.

The 2021 edition is taking place virtually May 24 and June 7-9, with the event exploring the theme "Resilient, Together."

Register here


---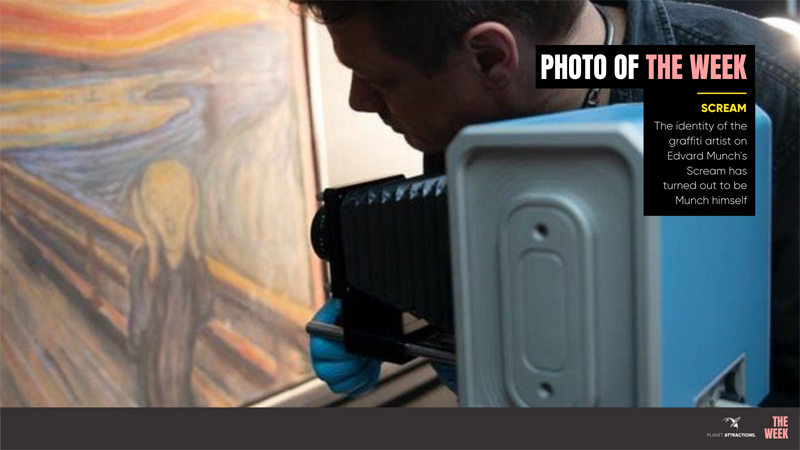 Our Photo of The Week comes from the world of art, where a conservation project at the National Museum of Norway in Oslo has revealed the identity of a mysterious vandal who scrawled on Edvard Munch's iconic work, The Scream - Munch himself.

Read more here


---


Show your support

We're in extraordinary times right now and this website is a direct result of that. Featuring a team of world-class attractions journalists and behind-the-scenes team of equal calibre, we need your support to make Planet Attractions happen.

We believe that everyone deserves equal access to accurate and compelling content, so we won't hide anything behind a paywall.

We're here to support both the industry and the consumer and to achieve our goals, we would love it if you could support us right back.

So how can you do this? It's easy. Just contact our sales team sales@planetattractions.com and let us know about your company. We will create a package tailored to your specific needs and deliver that in the way we believe will benefit you the most.

You can also support us at no cost to you. All you need to do is follow our social channels.

You can do this by:

Liking us on Facebook

Following us on Twitter

Liking our Instagram page

Subscribing to our YouTube channel

Following our LinkedIn page

Most importantly, once you've subscribed, make sure to go on these social channels and engage! We're building a community and we love being able to bring you all together.

Thank you,

The team at Planet Attractions.




© Kazoo 5 Limited 2021