news

The Week: Eurovision in Husavik, Michael Mack on Europa-Park's year and the man behind Jurassic Park's dinosaurs

With a Eurovision Museum making its way to Iceland, Michael Mack on 'the toughest year in the history of our business', Beetlejuice returning to Horror Nights and a man who owns an army of robot dinosaurs, welcome to the latest edition of The Week with Planet Attractions

After taking a week off to celebrate what would have been the 100th birthday of Europa-Park founder Franz Mack, we're back for our seventh edition of The Week.

A lot has happened over the last seven days and we've got all covered in this edition, which looks at everything from space hotels to Steven Spielberg. We've even managed to cover our local football club - Stevenage FC - and found an excuse to mention the smash hit song Jaja Ding Dong by Will Ferrell and MyMarianne.

Welcome to your seven day breakdown of everything related to the visitor attractions industry. Welcome to The Week from Planet Attractions.


---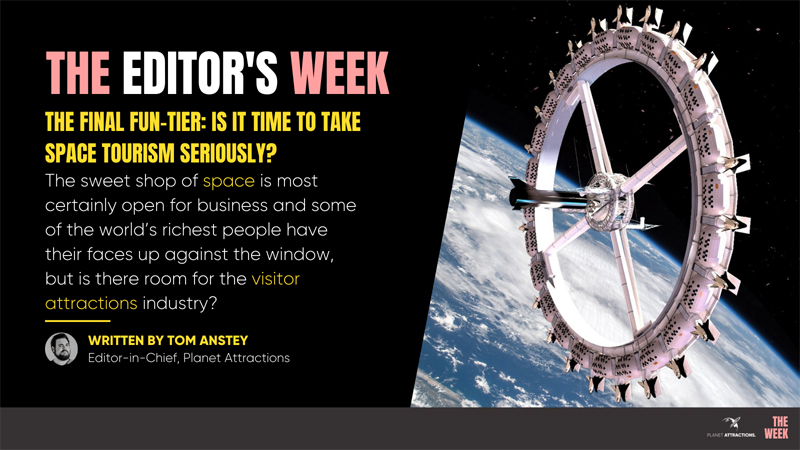 There have been a few big bits of news in the last few weeks when it comes to outer space and tourism.

The first two were connected, with the world's first space tourism flight seeking passengers to travel around the moon, while SpaceX's Starship made its first successful vertical landing (it did explode shortly after but we'll get to that). On top of that, plans were announced to open the world's first space hotel and I can't forget to mention Disney Imagineering legend Joe Rohde's move to Virgin Galactic, or the fact that NASA recently safely landed another rover on Mars.

The sweet shop of Space is most certainly open for business and some of the world's richest people have their faces up against the window looking at the Milky Ways, Mars Bars and Galaxys (see what I did there).

And this isn't just John who lives down the road tinkering in his shed with gunpowder and some tubing, it's the likes of Richard Branson, Elon Musk and Jeff Bezos. These men, some of the most powerful people in the world, see the value in space. So is there room for attractions?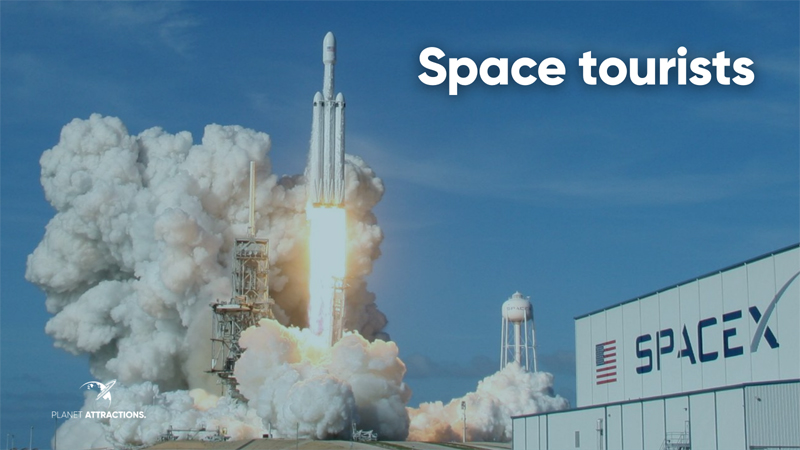 In 2023, Elon Musk's SpaceX will make its inaugural tourist flight around the Moon, with businessman Yusaku Maezawa footing the bill for eight lucky applicants.

Called dearMoon, the full crew for the mission will be between 10 and 12 people, including Maezawa and the eight volunteers.

Boldly going further into outer space than anyone ever has before, the crew will travel on Elon Musk's Starship - a work in progress at present having recently had its prototype explode eight minutes after landing.

That might sound like bad news but SpaceX will be hugely encouraged by its most recent test, where it managed to successfully execute its in-flight manoeuvres and make a reasonably soft vertical landing.

These significant milestones will give the company confidence as it moves forward with the ambitious Starship, which will not only be able to fly people around the moon, but one day will be able to land them on it too.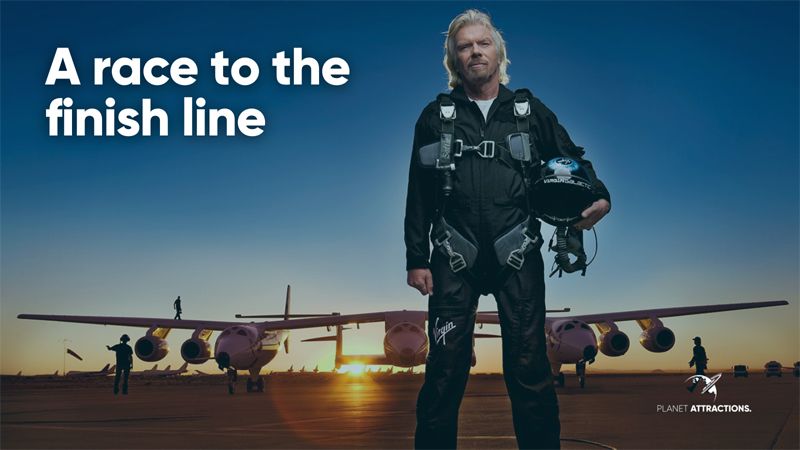 In addition to SpaceX, a number of companies are currently trying to crack space travel for the everyday human. Inspiration4 is a company using the same Dragon vehicle that was successfully docked at the International Space Station with four professional astronauts in late 2020. The company's leader, Jared Isaacman, is an accomplished pilot with experience flying both military and commercial aircraft. This solution would work in partnership with SpaceX, using the Dragon Spacecraft to achieve the feat.

Another company, Axiom Space, is currently building the first private space station where space tourists will potentially be able to live in space for several days. For now, a private-crew mission will be launched to the ISS in 2021. Four civilians are expected to fly to the ISS in 2022 through Axiom and stay there for ten days.

Jeff Bezos' Blue Origin is a big player in the space tourism race. Bezos is so serious about the venture that he stepped down from Amazon in February to focus on other projects, primarily Blue Origin. The company will initially offer low-earth orbit flights from its western Texas launch site, taking up to six civilians to the fringes of space for around 11 minutes. Passengers will re-enter the Earth and land in the desert near El Paso, Texas, in a capsule via parachute.

And of course, there's Richard Branson's Virgin Galactic, which currently operates from Spaceport America in New Mexico. Like SpaceX and Blue Origin, Virgin Galactic is currently in the test flight phase of its mission, but the operator hopes to be able to welcome civilians on-board soon. Virgin's current spaceflight system consists of the aircraft WhiteKnightTwo (WK2) and the SS2-1. An additional SS2-2 rollout is expected later this year, and another one SS2-3 is under construction. By the end of 2023, Branson wants to have five operating space vehicles.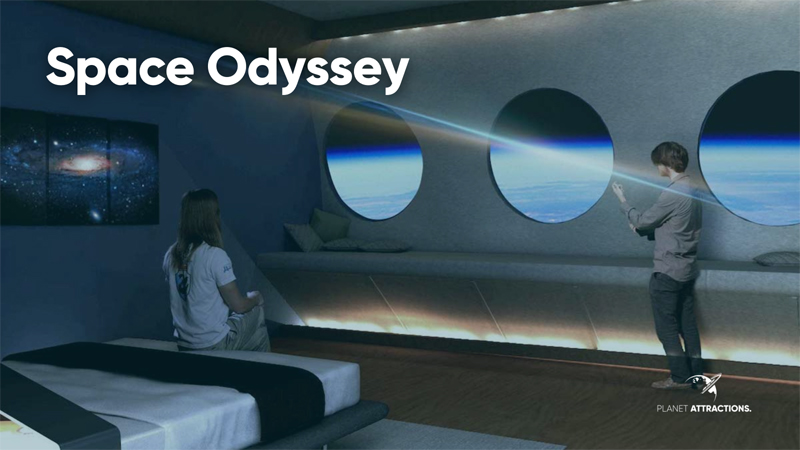 The space tourism race is undoubtedly in full gear and as bizarre as it might sound, is it time to ask where the attractions industry fits in in this puzzle?

Let's start with the space hotel. Even just a few years ago, a concept such as this would sound like something straight out of a sci-fi series but somehow it's something that is legitimately in the works right now.

For the traveller who REALLY wants to get away, the ring-shaped Voyager Class space station will be able to host up to 400 people and is slated to open as soon as 2027.

Now you might think such an experience will feature guests with limited resources able to stare back at the earth while they enjoy their space rations but you'd be wrong. According to the Orbital Assembly Corporation (OAC), the plans include luxury bedrooms, bars, restaurants and even a gym. The rotating space station is also designed to produce varying levels of artificial gravity by increasing or decreasing the rate of rotation.

Going beyond the space hotel, mankind has big plans when it comes to the Moon, with plans for humans to set foot there for the first time since 1972.

That's just the start for the Moon though. If you watch any outer space drama (usually set in about the year 2100) the Moon and even Mars are not only occupied but are colonised by humanity. So if a space hotel is now in the realm of possibility, what about an outer-space art gallery on the surface of the Moon?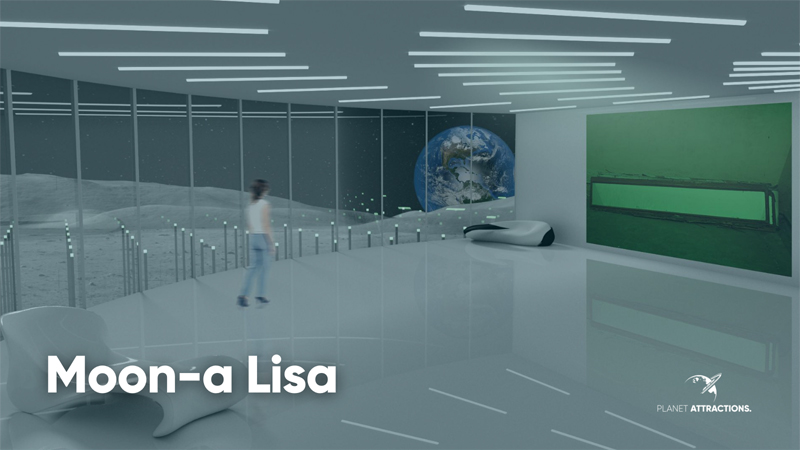 Believe it or not, a museum on the moon was pitched as an idea in 2017, with the Moon's first colonisers set to be offered a dose of culture in the form of an art gallery.

Proposed by artists Julio Orto and Joey Cannizzaro, the Museum of Contemporary Art on the Moon, or MoCAM as it would be known, would not only offer fantastic views of Earth some 384,400km away, but it would also feature works of art (not to mention its farming greenhouse, restaurant and gift shop).

The pair are committed to their plan, having purchased a 20-acre plot of land on the Moon, located in Area D 6 Quadrant Charlie – the extreme northwest corner of the recognised Lunar Chart. At the time, this sounded like a pipe dream, but now, could it be within the realms of possibility?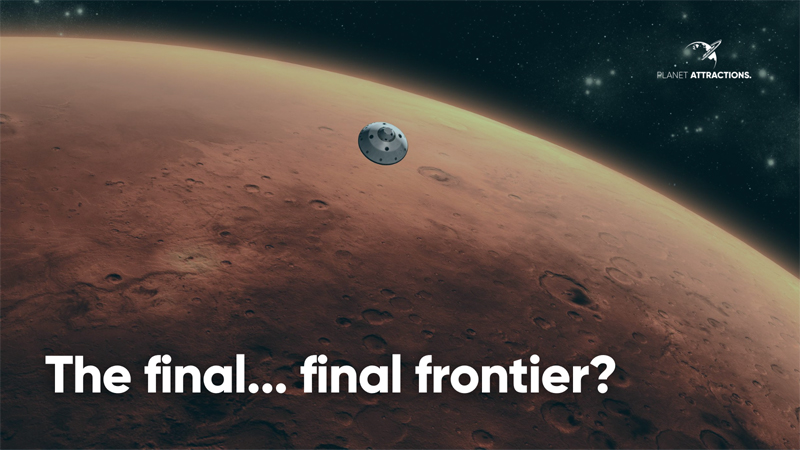 And if the space hotel, the art gallery on the Moon and the race to get tourists into space isn't enough, what about the prospect of visiting mars for your summer holiday?

It was February 18 when NASA's Perseverance Rover landed safely on the Red Planet, since sending back a number of stunning images of the surface of Mars. But it's the human element that's long been talked about and there are even plans in place to accommodate them when they arrive.

The Mars Society has launched a cryptocurrency known as Marscoin, which it says will be a "new planetary settlement" as it would be "very unlikely that the first Martian settlers will start printing paper."

The current issue with Mars is an average flight takes about seven months each way, which obviously isn't ideal if you were planning a two-week stay. Going back to Elon Musk, the billionaire has plans to send humans to Mars and says he is highly confident that SpaceX will launch people in 2026, adding that the milestone could come as early as 2024 "if we get lucky."

I'm not saying we're moving to Mars tomorrow. In fact, we're probably decades away from anything resembling tourism there, but could we soon see a DisneyWorld, or maybe more appropriately a DisneyMoon, in outer space within our lifetimes? Well if that was the case we'd have to expand Planet Attractions to include all moons and passing comets. No way I'm missing out on a trip to the solar system's first rollercoaster in space.


---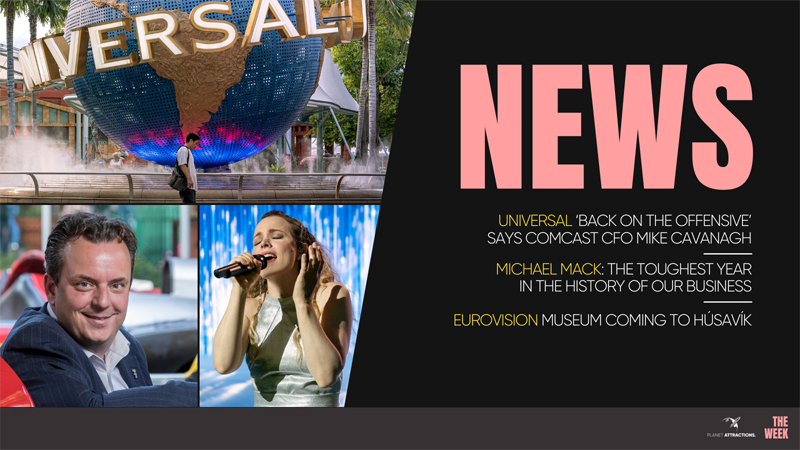 Following a dire 2020, Comcast's Mike Cavanagh is predicting a much better year for Universal's theme park division.

Following a year in which Universal's parks went from annual profits of US$3bn to losses of more than US$500m, Comcast CFO Mike Cavanagh has declared the operator to be "back on the offensive" with returning customers and new developments signalling...keep reading

Following an unprecedented year, Europa-Park CEO Michael Mack has explained how the business navigated the troubled waters of 2020, as well as detailing a number of exciting plans for when the world finally starts to turn again.

"As for pretty much all theme parks around the world, it has been our toughest year in the history of...keep reading

They might well be playing Jaja Ding Dong in Husavik, Iceland, after the country's government awarded development funding for a Eurovision Museum in the small fishing town.

Boasting a population of just 2,307 people, Húsavík was catapulted into the public eye by Will Ferrel and Rachel McAdams'...keep reading


---


This week's Quote of The Week comes from one of the most interesting people you could ever hope to meet. Don Lessem is a man who advised on the first Jurassic Park film, built a robotic version of Donald Trump sitting on a toilet that made worldwide headlines and owns his own robotic army of animatronic dinosaurs - and that's just skimming the surface!

Read part one of our interview with Dino Don here

...And read part two here


---


More reading

• Dropped Dr Seuss titles leads Universal to 'evaluate' Islands of Adventure's Seuss Landing

• Super Nintendo World and Disneyland among parks given reopening green light

• Diamond Balloon - a revolutionary new take on viewing experiences


---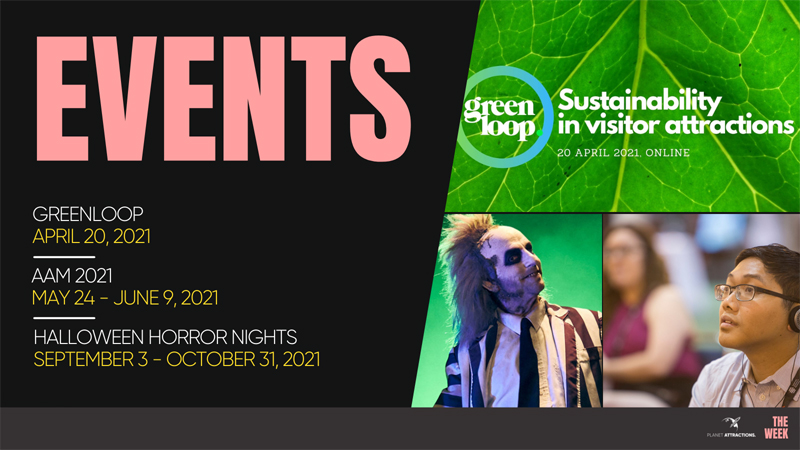 Greenloop

Industry news source, networking and conference provider Blooloop is hosting a sustainability conference, which will see speakers discuss, debate and introduce sustainable initiatives for the visitor attractions sector.

Read more here

AAM Annual Meeting and MuseumExpo 2021

The AAM Annual Meeting first started in 1906 in New York with under 200 museum professionals and has grown to over 5,000 attendees, becoming the largest museum conference in the US.

The 2021 edition is taking place virtually May 24 and June 7-9, with the event exploring the theme "Resilient, Together."

Register here

Halloween Horror Nights

After being forced to cancel the event last year because of COVID-19, Universal has announced the return of its incredibly popular Halloween Horror Nights spectacular, which will celebrate its 30th anniversary with Beetlejuice as the main attraction.

Read more


---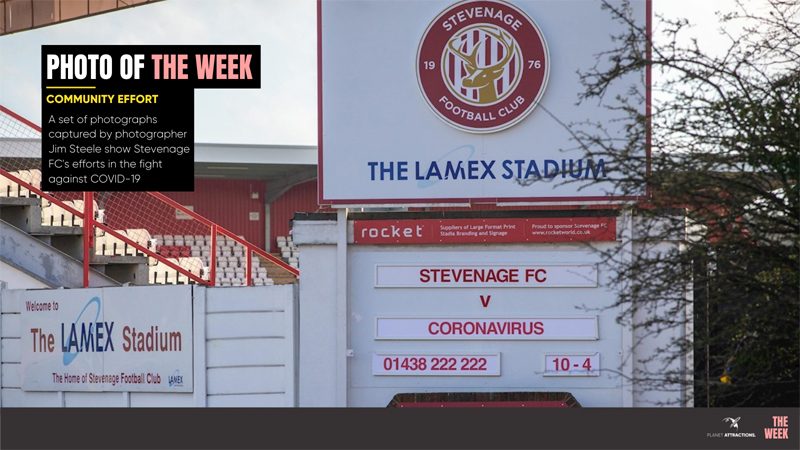 The National Football Museum in Manchester, UK, has curated a collection of 11 objects from its archives to tell the story of professional football during the pandemic.

Among these are a set of photos by Jim Steele showing League Two side Stevenage FC's staff and players delivering food and activity packs to their local community.

Read more here


---


Show your support

We're in extraordinary times right now and this website is a direct result of that. Featuring a team of world-class attractions journalists and behind-the-scenes team of equal calibre, we need your support to make Planet Attractions happen.

We believe that everyone deserves equal access to accurate and compelling content, so we won't hide anything behind a paywall.

We're here to support both the industry and the consumer and to achieve our goals, we would love it if you could support us right back.

So how can you do this? It's easy. Just contact our sales team sales@planetattractions.com and let us know about your company. We will create a package tailored to your specific needs and deliver that in the way we believe will benefit you the most.

You can also support us at no cost to you. All you need to do is follow our social channels.

You can do this by:

Liking us on Facebook

Following us on Twitter

Liking our Instagram page

Subscribing to our YouTube channel

Following our LinkedIn page

Most importantly, once you've subscribed, make sure to go on these social channels and engage! We're building a community and we love being able to bring you all together.

Thank you,

The team at Planet Attractions.




© Kazoo 5 Limited 2021