news

Shanghai's 2010 Expo site gets new lease of life as culture zone

A converted steel factory and Butchart-inspired gardens are at heart of Shanghai's newest and largest parkland and culture zone

The former Shanghai Iron and Steel Factory is being converted into an enormous greenhouse-conservatory
Credit: DMAA
Like the Olympics, World Expos are often subject to criticism about the legacy of the project, with questions always asked about money spent and the lasting benefit of the new infrastructure for the local population.

In China, the Shanghai Expo took place a decade ago in 2010, but the vast expo site in the city's Pudong district has not been abandoned or forgotten.

Later this year, Shanghai Expo Cultural Park will fully embrace its new life as an ecological natural forest park incorporating new cultural landmarks.

Spanning an area of 2 million sq m (21.5 million sq ft), the land on the banks of the Huangpu River will be Shanghai's largest green space and has been compared by local media to New York City's iconic Central Park.

On-site, the former Shanghai Iron and Steel Factory is being converted into an enormous greenhouse-conservatory structure by Vienna-based architects Delugan Meissl (DMAA). Similar to Cornwall's Eden Project and the Flower Dome and Cloud Forest at Singapore's Gardens by the Bay, the huge conservatory will house a diverse selection of botanical life.

"Different natural scenarios and climates are recreated inside the four single-glazed pavilions, forecasting a lively journey to the visitors," the architects say. "They can experience the canyons, sandy dunes and plants from the Desert Pavilion. The swamps, waterfalls and tropical vegetation of the Natural Rainforest exhibition or the digital caves, cascades, fruit-trees and flowers of the Cloud Garden Hall."

DMAA's conservatory will be complemented by outdoor semi-formal gardens inspired by the historic Butchart Gardens of Vancouver Island, Canada. The gardens, which have received investment worth almost RMB2bn (US$309m, €256m, £227m), will be open to the public and host flower exhibitions.

Norwegian architecture firm Snohetta's Grand Opera House should be a crowning glory for the new riverside parkland when it opens in 2024.

Other features soon to launch at Shanghai Expo Cultural Park include a mountain forest area and a major equestrian centre, opening in 2022. The park will be free to visitors.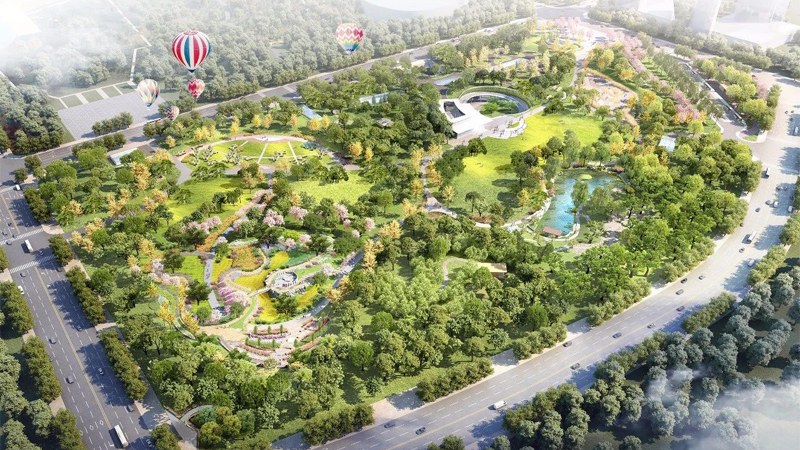 The legacy project sees the site transformed into a giant culture and green space - Credit: DMAA




© Kazoo 5 Limited 2021