Oman is set to break ground on a US$175m (€148.7m, £126.9m) botanic garden - the largest of its kind in the Arabian Peninsula.

Part of the country's tourism plan to diversify its attractions for overseas visitors, the project will feature two biomes and surrounding habitats populated with endangered flora.

Called the Oman Botanic Garden, the attraction will showcase the different natural habitats of Oman, such as the various types of deserts and the rainforests in the south.

While being used for tourism, the garden will also have beneficial purposes for science, due to the variety of flora being stored allowing for research. The gardens will allow for research on the native plant life being stored.

Located at the foot of Oman's Al Hajar Mountains, the garden will be 35km from the capital of Muscat and will be among the largest botanic gardens in the world when it opens in 2023.

The garden will also be home to a visitor centre and educational and research facilities, nestled within the natural ravines and ridges that traverse the site minimising disturbance to the existing terrain. The plan will also feature a first for the country - a cable car.

The Diwan of Royal Court are leading the project with Arup, Grimshaw, and Haley Sharpe Design working on the landscape, architecture and design of the gardens.

"This unique and diverse location will be the site of the first cable car that will enhance visitor experiences of the garden's various elements," said Salim Al Mahrouqi, Oman's minister of heritage and tourism.

"It will be one of the largest botanic gardens in the world. It will present an opportunity for visitors to experience the flora and vegetation of Oman while learning about the agricultural heritage, rich cultural traditions and legendary hospitality of the country."

Conservation efforts are also in mind with the construction of the gardens. Plans of a seed bank for future reforestations have been mentioned, as have other plans for research on conservation.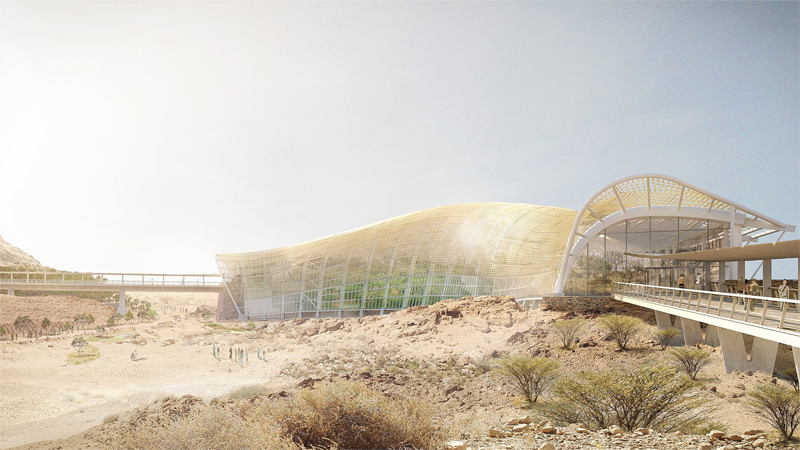 The garden will be made up of two large biomes   CREDIT: GRIMSHAW ARCHITECTS